Welcome to Bargain Book Bonanza!

DeLynne is hosting this week!

Drew in Blue by J.M. Kelly was free when I 'bought' it on Kindle, but now I see it's $3.99 or free for Prime members.


Even if you have to pay the full $3.99 I think you will consider it money well-spent.
This is a romance story, but it's also about raising babies and making art and becoming a parent. Drew finds himself unexpectedly responsible for his baby Nick. You can imagine the usual Three Men and a Baby gags about diapers and spit-up, and yes, they are here.
But this is also a well-written story that made me smile and even tear up. Don't expect a sob story because it doesn't take much to make me moist-eyed, it's a genetic thing.
I loved riding along with Drew as he grew up, forgave his mother for dying when he was young, earned a living, fell in love with his son, and found the woman of his dreams.
As an added bonus, Drew is an artist, and we get to see glimpses of an artist's life. You know, painter's block, working at home, choosing a media, meeting buyers, hanging the canvases, etc. Not knowing any full-time artists I am not sure about the accuracy of these details, but they were interesting and made me wish I could paint.
You should know that Drew in Blue gets a little, erm, blue at times. So if you're a stickler for keeping your reading G rated you need to move along. Nothing to see here. It's certainly not erotica (which Lesa says has 'all the particulars') but there are some intimacies and a bit of swearing.
The plot is predictable. I mean Blind Freddy can see where it's going. But it was sweet and funny: certainly more than just a Harlequin, Mills and Boon-type story.
I think you will enjoy getting to know Drew.
Not THIS Drew in Blue.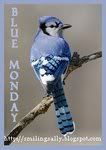 And to see even more blues, please hop over to Blue Monday hosted by Smiling Sally.








****************************************
BBB is a book haul linky party for bargain loving bookworms!