Guess what I spotted in a GoodReads email?
My wish book for this week!
It is the latest in the fun Five Hundred Kingdoms Series by Mercedes Lackey.
The eldest daughter is often doomed in fairy tales. But Bella—Isabella Beauchamps, daughter of a wealthy merchant—vows to escape the usual pitfalls.
Anxious to avoid the Traditional path, Bella dons a red cloak and ventures into the forbidden forest to consult with "Granny," the local wisewoman.
But on the way home she's attacked by a wolf—who turns out to be a cursed nobleman! Secluded in his castle, Bella is torn between her family and this strange man who creates marvelous inventions and makes her laugh; when he isn't howling at the moon.
Have you read any Tales of the Five Hundred Kingdoms?
In this series, the characters are usually trying to avoid the powerful pull of Tradition or shape it to improve their lot. Tampering with Tradition can cause big trouble so Godmothers must find ways for 'Tradition' to be satisfied while ensuring the safety and happiness of all... even if it is in very unexpected ways.
If you like quirky fairy tale retellings, you are in for a treat.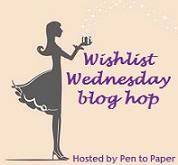 Please visit Pen to Paper to see more Wishlist Wednesday offerings.