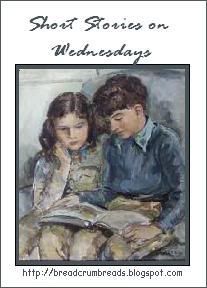 Short Stories on Wednesday is hosted by the lovely
Risa of Bread Crumb Reads
. Click the text link to visit the brand new Bread Crumb Reads on Wordpress. Click the button to visit the old Bread Crumb Reads on Blogger. (but it really isn't old)
I'm so excited to finally be joining in Risa's celebration of short stories. I love love love short stories. As a child, I read them frequently. As an adult, not so much but I do miss reading them.
During this year of bargain book buying like a wild woman, I've acquired several interesting and eclectic (genre to literary) anthologies that I've been longing to read. Since it is October, I decided to start with the King of Creepy.
Skeleton Crew, first published in 1985, is King's second anthology. It contains one novella and twenty-one short stories.
Sunday, I read three selections in the car coming home from a long weekend getaway. It was a five hour roadtrip so I could have read many more stories but three was plenty of creep for one sitting.
By the way, I'm not a wimp. I am actually a backsliding Horror addict. And I blame my return to the genre on reading the always terrific and sometimes horroric blogs Shredded Cheddar and Serendipity's Library.
So which short stories did I read?
Cain Rose Up
This six page shorty, written in 1968, is about a nutter sniping people from his college dorm window.
Sounds like something off the current nightly news, doesn't it. Scary!
The sniper's attitude and negative way of describing other people is very reminiscent of Holden Caulfield but there aren't enough pages for him to get too annoying. I really thought the story might be a little tip of the hat to Salinger but there is no information from the author about this story in the book's Notes.
Wikipedia
states that the story might have been inspired by the
1966 sniper shootings at the University of Texas
.
(I'm from Texas but don't recall knowing about that mass murder. If you are into true crime, the article at Wiki is interesting. The guy left sane sounding notes, seemingly bewildered by his own behavior and requesting his own autopsy. He had a brain tumor.)
Anyway, back to this story. The sniper justifies his rampage to a poster of Humphrey Bogart (yeah, he's nuts) with an interpretation of the Cain and Abel story. After all, God isn't a vegetarian. God wants meat.
Here There Be Tygers
This five pager was also written in 1968. It is about a hungry tiger in a school basement bathroom. Is there really a tiger in the bathroom? Is it just the fantasy of a third grade boy who is constantly targeted and embarrassed by a mean teacher?
I don't know but in the Notes, King says his first grade teacher was pretty scary.
So fellow teachers: Stay out of basement bathrooms and whatever you do... do not use the word urinate in reference to a student!
The Monkey
This short story from 1980 is more of a longy at thirty eight pages and OooOOooOOooo... Can you guess which creepy monkey this is about?
*
*
*
*
*
*
*
*
This broken monkey toy refuses to be thrown away and when it claps it's cymbals... yes, the cymbals clap even though it is broken... so when the cymbals clap... are you on the edge of your seat?
Okay, when the cymbals clap... terrible things happen. Mwahahaha... You didn't really think I would reveal evil monkey deeds, did you?
I don't want no monkeys after me!
In the Notes, King says this story was inspired in New York City by a platoon of wind-up monkeys for sale on the street, all bending, grinning and clapping... and looking very scary.
All three of these stories are good creepy little tales. Which is my favorite? Hmm.. Cain Rose Up is scary because random shootings by crazy people are real. Here There Be Tygers is creepy in a folktale urban legend sort of way. The Monkey is traditional horror with supernatural evil.
I enjoyed them all but The Monkey is my favorite.
Do you have a thing for short stories? Any particular author or genre? Please share. And do head over to Bread Crumb Reads to check out all the other short story devotees' weekly selections.